Mirror Silver Coating
AG NANO coating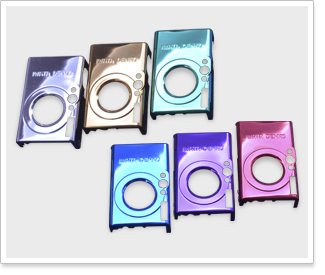 One of the apeals of smart phones and MP3 players is the mirror finish of its surface.
IWATA has established mirror silver coating method, which is one of the most difficult and challenging coating techniques, and applied it to massproduction of camera covers in a more stable and economical way than traditional mirror silver coating.
Traditional mirror silver coating requires advanced techniques of a skilled coating technician.
IWATA has achieved stable massproduction of mirror silver coating by using 4-booth painting line for the first time in a world.
Disposal of water for rinsing, which is one of the biggest headache in traditional silver mirror coating, is also saved by 4 booth painting line that can handle base coating, mirror silver coating, colour paint coating, and top transparent coating in succession.
More economical and ecological surface coating is possible.
IWATA has satisfied the requirements of leading designers by providing advanced surface treatment and coating to the camera covers of the world presiegious brand.
Mirror silver coating is one of IWATA's achievements in surface coating as a result of pursuit of the following:
More advanced surface coating techniques.
World class painting facilities and accessaries.
Features of AG NANO coating
1. With sophisticated IWATA's surface coating techniques, a most beautiful mirror surface is available.
2. More economical and reliable production than hand working by an experienced technician is possible.
3. By using 4-booth massproduction painting line, massproduction of mirror silver coating is possible.
Applicable field
1. Mirror finish for smartphones and MP3 players.
2. Mirror finish for PC and tablet computers.
3. Mirror finish for digital cameras.
4. Mirror finish for cases of cosmetic products.
5. Fishing tools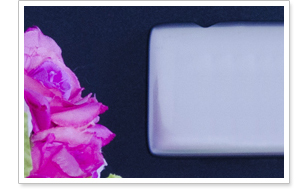 Before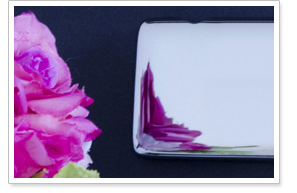 After

Disc Spring,
Retaining Ring
Surface Coating,
Mirror Silver Coating