Surface Coating
Iwata's surface coating technology
Mulitple coating layers precisely realizes designer's image.
... Formation of a coating layer by using multiple coating guns and finely atomized paint
... Application of Maximum 4 coating layers is possible; flexibly meeting customer's requirements
Wide range of painting methods
... two component- paint, high temperature cured paint, UV cured paint, electro deposition coating
Cutting edge cure-oven to ensure paint's reliability: adhesion and hardness property.
Flexible control of substrate's surface conditions
Functional coating such as lubricant and conductive coatings
1. Multiple coating layers
Dilemma of traditional surface coating

Multiple coating layer generated from finely atomized paint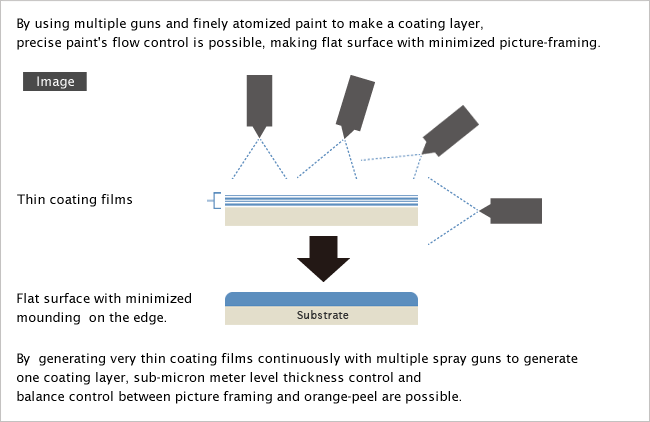 2. Wide range of coating methods available
IWATA has wide selections of painting methods from spray coating with two component-paint, high temperature-cured paint, UV cured paint to electrodeposition coating.
Our coating lines are equipped with the cutting edge cure ovens to maximize the reliability of the high temperature cured paint.
Advantage of high temperature cure paint:High adhesion and hardness properties and high productivity
High pencil hardness (more than 3 H) and high adhesion property for metal substrate.
Two-component paint takes about 24 hours to 1 week to be completely cured and thus timing of the reliability testing is delayed.
High temperature cure paint is completely cured in a high temperature onven and
can be put on a reliability testing just after products come out of the painting line. ===> production effeciency is greatly increased.
3. Cutting edge cure-oven to increase the paint's reliability
Specially designed cure oven maximizes the reliability of both two componet paint and high temperature cure paint.
By instaling a cure oven on each coating booth, reliability of each coating layer is assured.
4. Flexible control of the substrate's surface conitions
By controling the substrate's surface conditions depending on a customer's requirements, adhesion property of paint is increased and the appearance that a designer requires can also be precisely realized.
Selections of substrate processing
Sandblasting ...Enhance the adhesion property of the paint and realize the designer's image.
Chemical polishing ...Make the substrate shiny and enhance the metalic tone.
Electro polishing ...Make the substrate very shiny, good for the preporcessing for electrodeposition coating.
Buffing ...Make the mirror suface by mechanical polishing, realizing the high grade appearance.
Spin pattern processing ...Varieties of spin patterns can be made with NC machine tool, generating 3 dimensional apperance.
Hair line procerssing ...Depth and width of hairline patterns can be selected
5. Functional surface coating such as the application of lubricant paint on the friction area is also available.
Integrated manufacturing from part making by press working and functional surface coating is possible.
Application
Surface coating of smart phone's metal cover.
Make spine pattern on the sufface with NC machine tool and cover the suface
with transparent colour coating, realizing 3-dimensional surface appearance..

Coating structure
3 coating layers
*Orange peel and picture framing minimized by the use of multiple coating guns and evenly applied fine atomized paint.
*Substrate is processed with special NC machine tool.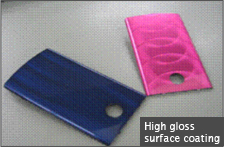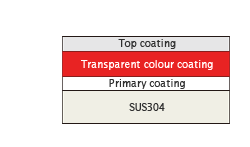 Surface coating of digital camera covers with shiny metalic paint.
By applying silver metallic paint at thickness of less than 1μm, sandblasted surface becomes as shiny as polished surface.
High quality shiny metallic tone is achievable at very low cost,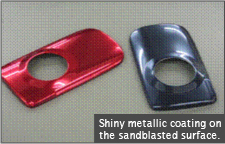 Disc Spring,
Retaining Ring
Surface Coating,
Mirror Silver Coating