High precision mechanical parts
Ever since foundation of our company in 1943, we have contributed to development of Japanese industries, gaining high trust and appreciations from our customers.
Our high precision press working techniques originates from manufacturing of shutter wings for single lens reflex cameras.
Our burr-less shutter wings made of hardened steel received high appreciation from multinational camera makers.
Even though trend has shifted from film camera to digital camera,
it is still true that to achieve high speed continuous shoot of 8 shots per seconds and high mechanical durability, integrated techniques of advanced precision stamping, heat treatment, and antiwear surface treatment are essential.
In addition to mechanical parts related to a shutter of camera, Iwata's high precision stamping has produced a lot of core parts for such key devices as auto focus device, mirror box, and etc.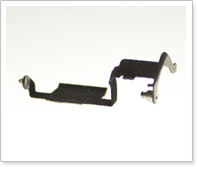 Mirror box part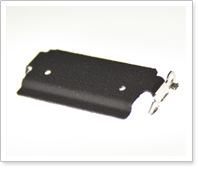 Mirror box part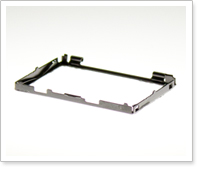 Frame of a mirror box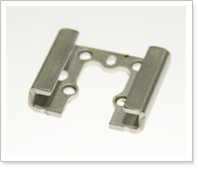 Fixture of a single lens reflex
camera's accesories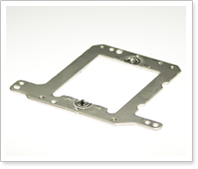 Fixture of a sensor dust unit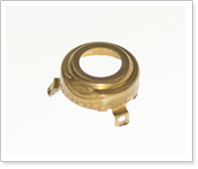 Lens fixture
Manufacturing of high grade steel covers
Both rigidity and thinness are needed for digital camera covers and mobile phone covers.
IWATA has provided high grade and high quality stainless steel covers to major camera and mobile phone makers.
IWATA's Cover
IWATA has high reputation and accumulated know-how for stable and reliable massproduction of stainless steel covers, which are used for high-end digital cameras.
Integrated manufacturing : Mold design and development, surface coating and treatment.
HIgh craftmanship is required for drawing operation of staineless steel. IWATA performs drawing of very thin stainless steel with remarkable accuracy.
IWATA has manufactured stainless steel covers since the time of film cameras.
We now manufacturs stainless steel covers for digital cameras.
With abundant experiences in stainless steel cover massproduction, we provide high grade and high quality stainless steel covers through integrated production of mold design and development, high precision stamping, surface coating, and surface treatment.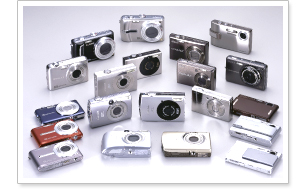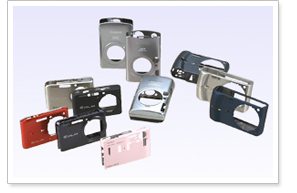 Our achievement
Compact digital camera IXI/Power shot series ...Canon
Compact digital camera Cybershot series ...Sony
Compact digital camera LUMIX series ...Panasonic
Compact digital camera EXILIM series ...CASIO
Compact digital camera COOLPIX series ...NIKON
Features of IWATA's camera
IWATA's metal stamping and surface coating techniques produce slim mobile phone covers with higher rigidity and stylish appearance.
Metallic tone
Metallic tone of stainless steel, titanium, and aluminium increases appearance quality.
HIgh rigidity
High rigidity stainless steel body enable a mobile phone to be thinner and more stylish.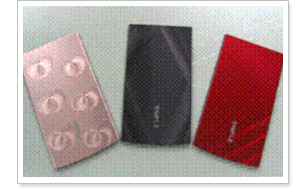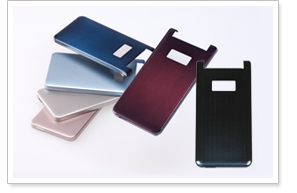 Our achievement
Titanium mobile phone covers by TOSHIBA
Light weight and high rigidity mobile phone covers made through drawing operation and hemming all the edge.
We manufacture products with our high grade surface coating and surface treatment to major Japanese mobile phone makers.